"Dogs are not our whole life, but they make our lives whole" – Roger Caras
This quote resonates with our team here at the Jack Kagan Foundation. As animal lovers and advocates, we understand the many ways dogs can have a positive impact on people's lives. Not only can dogs be used for emotional support and stress relief, but dogs are also capable of detecting serious medical issues. They have been providing much-needed assistance to individuals with disabilities since at least the early 1700s.
But it wasn't until World War I that the modern guide dog movement began. Mustard gas left many young veterans permanently blind and in need of trained guide dogs to navigate their new world. Since then, dogs have been used for a variety of support purposes and types. For example, there are therapy dogs who visit or work in a healthcare or educational setting, The majority however are service dogs and companion dogs. These terms are often confused and erroneously considered to mean the same, but there are important distinctions between service dogs and companion dogs. These distinctions have been written into law through the Americans with Disabilities Act (ADA).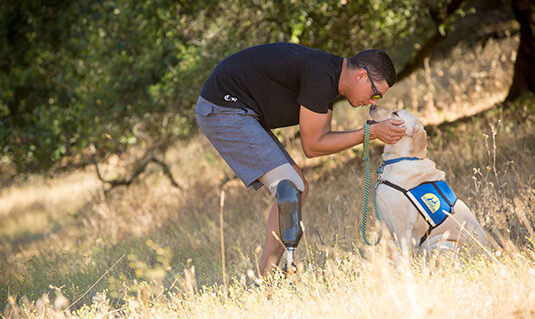 Service Dogs/Assistance Dogs
The ADA defines a service dog as "any dog that is individually trained to do work or perform tasks for the benefit of an individual with a disability." This can include a physical, sensory, psychiatric, intellectual, or any other mental disability. The term service dog is used interchangeably with assistance dog.
Service dogs, then, are specially trained to perform one or many specific tasks for their assigned individual. Tasks performed by a service dog include but are not limited to:
Guiding people who are blind
Alerting people who are deaf or hard of hearing
Pulling a wheelchair and/or assisting the individual in a wheelchair
Alerting and protecting a person who is having, or are about to have, a seizure
Assisting those with balance and stability issues
Reminding a person with mental illness to take prescribed medications
Interrupting impulsive or destructive behavior of those with neurological disabilities or other psychiatric issues
Helping veterans with Post Traumatic Stress Syndrome by turning on lights, creating a buffer in public, and interrupting anxiety attacks or nightmares.
Companion Dogs/Emotional Support Dogs
Companion dogs, on the other hand, may not be specially trained to perform any specific task. While their designation must be supported by a qualified physician, psychiatrist, or other mental health profession, they are NOT considered service dogs under the ADA and do not have access into public places. The principal service that these animals perform is emotional support to those suffering from anxiety disorders and to provide basic companionship. The Fair Housing Act does permit them to live in non-pet housing.
Service dogs are trained to behave impeccably in public. Companion dogs may or may not be as well-behaved in a crowd, and can be virtually indistinguishable from pets.
Our Foundation
Whether they are service or companion dogs, our Foundation recognizes the positive impact these animals have on people's lives. Jack Kagan personally witnessed dogs improving the lives of many he served with during WWII. We support organizations that train and provide service animals to people in need, including Canine Companions For Independence, and Assistance Dogs Of The West.
If you're interested in supporting a variety of organizations that help provide service dogs to veterans and other individuals in need, consider donating to the Jack Kagan Foundation today.